Uninterrupted supply of Medical Oxygen
Our oxygen plants are running at 100% capacity to ensure uninterrupted supply of Medical oxygen. We also imported oxygen concentrators which are now in use
In 2020, humanity was introduced to an unseen enemy - the SARS CoV-2 or the Novel Corona Virus. Something that had originated in an unknown city in one country soon engulfed the world and brought life to a standstill. It was not something anyone had ever seen or experienced, each one of us was unprepared and improvising on the go. We saw collective wisdom and unforeseen solidarity, when entire humanity decided to stay in, to control the spread of the virus. And control we did. By the end of 2020, India had a vaccine and seemed to have won the virus, and was being talked about in the world for its meticulous handling of the situation. Little did we know that there was a second wave waiting in the folds, and it hurts to stay that it is stronger than ever, the new mutant is faster than ever and we are still as vulnerable as can be.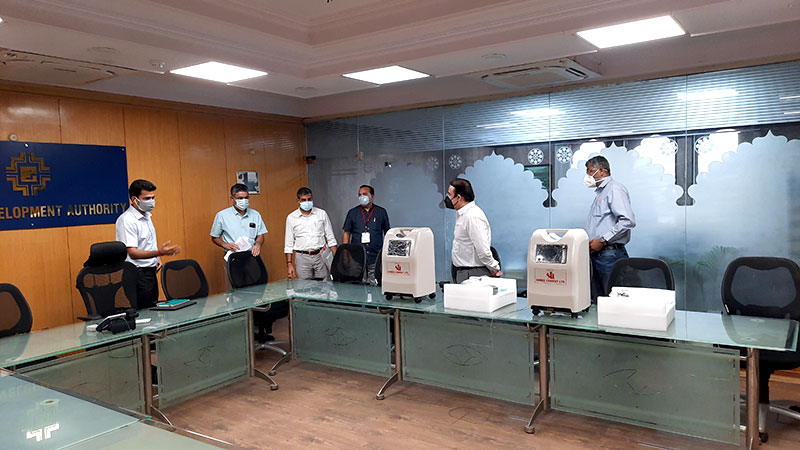 Covid-19 especially the new mutant is severely transmissible, because of which the number of cases have been multiplying at a rate faster than what the country's medical infrastructure can handle.
The novel corona virus moves down the respiratory tract – mouth, nose throat and lungs. In more advanced stages it could lead to inflammation of lungs and Acute Respiratory Distress Syndrome making it tough to breathe. These patients need oxygen support and acute cases might have to be put on ventilator.
India now is reporting the highest spike rates reported in any country ever and statisticians say that we have not reached the peak yet. Central and State Governments, Private bodies, Volunteers and the country's Medical Staff have been stretched thin, and the most severe of them all is the ever mounting demand for Medical Oxygen and its continued shortage.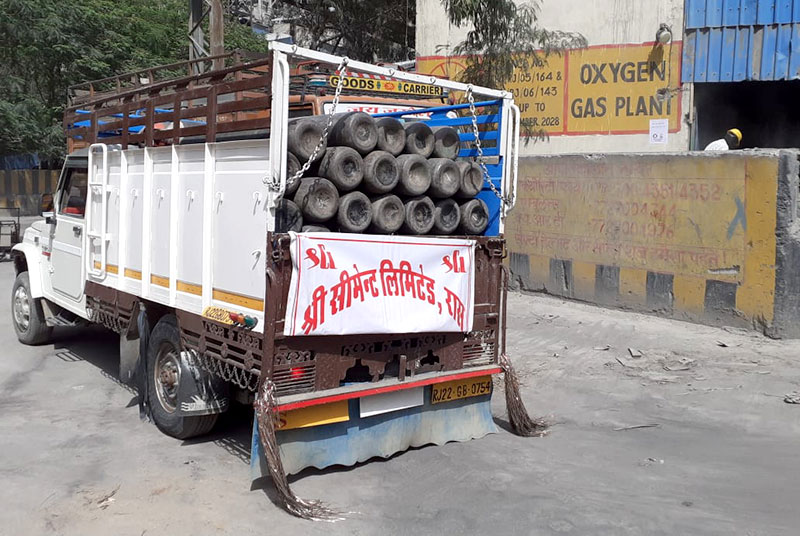 These are unprecedented times that call for unprecedented actions. Shree Cement has Oxygen Plants in its units in Rajasthan, Chhattisgarh and Karnataka, which used to function on demand, on normal days, seldom at 100% capacity. Since, the last ten months, Shree Cement Units have been running all its Oxygen Plants to 100% capacity to support the Medical infrastructure of the country. Till now the company has refilled 45,000+ oxygen cylinders and supplied to various hospitals in Rajasthan, Chattisgarh and Karnataka. This number is as per the last count. The management team and the CSR team has been consistently liaising with state administration and government units to ensure uninterrupted supply of oxygen from all of its units.
Taking a step further the company has imported 70 Oxygen concentrators which were handed over to the Govt. of Rajasthan and have been installed in the Covid Care Center in Bilwa, Jaipur.
In the last year, Shree Cement donated Truenat Testing Machines for Covid-19 to the district administration of Aurangabad, Rohtas, Gaya, Jehanabad and Arwal in Bihar. At present, the company is working with the state and district administration in Bihar towards further strengthening of the health infrastructure.
In Pali district, in Rajasthan, Shree Cement built a ward for Covid – 19 patients, fixed electrical units and supplied Medical equipment specifically for Covid-19 patients which is in use at present. This is in addition to the continuous supply of PPE kits, thermal scanners, thermometers and smaller equipment which the company has maintained since the onset of Covid-19.
The CSR teams of all units have also been working in the villages adjoining the plant areas, spreading awareness related to Covid-19, providing medical support, ambulance services, transport, sanitiser and masks, grocery packets etc. As masks became a necessity, the team mobilised women of neighbouring villages, who had been trained earlier to stitch masks. Since April 2020, women have been stitching masks. Raw material for the masks is supplied by the company and the company pays them for each mask that they stitch. These masks are used for donation to various causes while generating a source of income for many families in these hard times.
We are witnessing unprecedented times, tough times and while everyone is trying their best, it doesn't seem enough, but human resilience and solidarity has triumphed battles that none of us could have ever imagined. And we believe that, the current situation, as tragic as it may be, can be won over, can be overcome, if we all stand together. At Shree Cement we have always believed that we are a part of the whole and we will thrive only if we are together. The entire Shree family and management team is committed towards this cause, and will continue to do our bit till we win over Covid as a nation. Together, we will overcome.