Leading through innovation
Consistent pursuit of sustainable, efficient, cost competitive and inclusive ways of doing business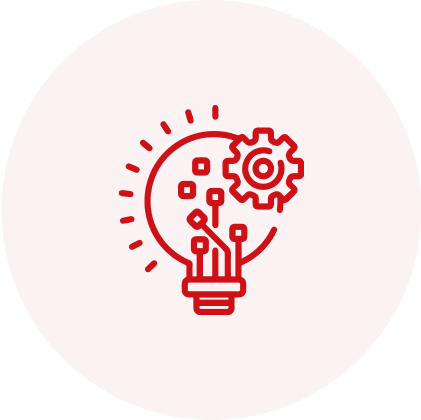 Enabled by a management team that encourages a spirit of innovation, promotes controlled experimentation and is tolerant towards failure, the team in Shree has consistently developed novel solutions which are first and one of the best in the industry.
In our consistent pursuit to create value for our stakeholders and build a sustainable business, our innovation ideas focus on achieving energy efficiency, lowering cost of construction, reducing our environmental footprint, and meeting high standards of aesthetics, health, comfort, and well-being.
Patent for Manufacturing of Synthetic Gypsum
Shree Cement has pioneered the manufacturing of Synthetic Gypsum which is used as a sustainable alternative to mineral gypsum in the cement manufacturing process. The company holds a patent for this and it has been recognised by the Government of India in the years 2017
Auto-Greasing System modification work in excavators
Our team improvised along with the OEM team and replaced the 60 Kg grease container with 180 kg barrel auto-lube system for field trials. This reduced the recharging periodicity by three times thereby saving time and increasing efficiency.
Launch of a new brand of international quality standards
A result of the combined efforts of our R&D and Technical team, we have created a product that is at par with international quality standards. Produced with fine quality cement particles with a perfect balance between Optimised Particle Size Distribution and Perfect Spherical Shape, concrete produced with Roofon is crack resistant and has high tensile strength.
India's first Triple String Pre-Heater
For one of clinker line projects, our engineering team decided to install a Triple String Pre-Heater based on their detailed analysis and study. This was the first ever in India pioneered by our own team. Industry practice is to have either a Two String or a Four String Pre-Heater.
Efficient Material Handling
A mechanised clinker wagon loading was made in house which has automated the loading of clinker wagons using telescopic chutes. For the first time in Indian Cement Industry, five wagons can be loaded simultaneously from five hoppers with each hopper having a rail static weigh bridge installed below the wagon for online weighing. The entire loading operation for one rake including wagon positioning is now completed in about two hours than which is a significant reduction from the ten hours consumed earlier.